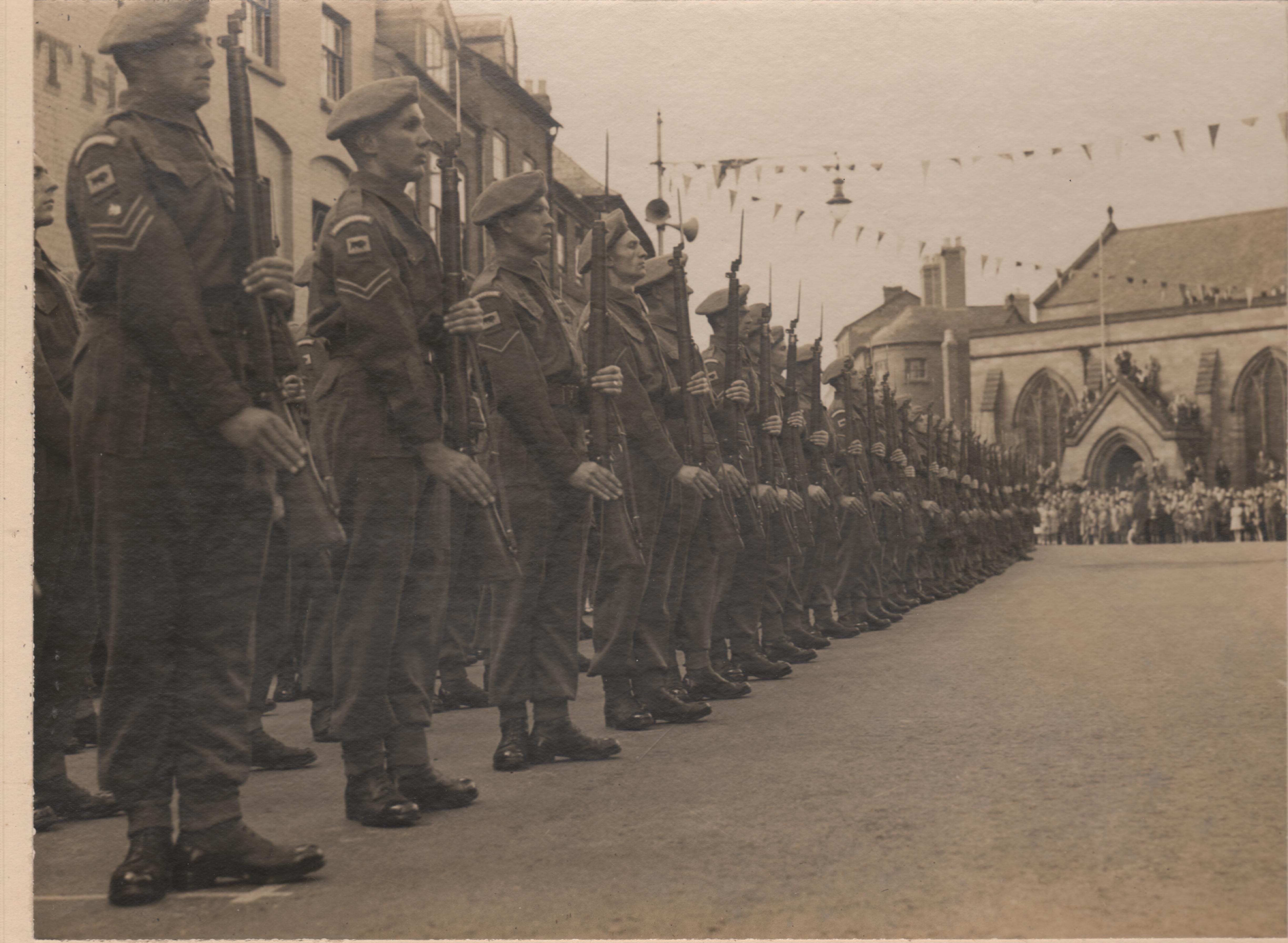 Freedoms
Freedom Privileges
The Freedom of Hereford
At a city council meeting of 29th May 1945 the council voted unanimously to award the Freedom of the City to the Herefordshire Regiment. The honour has its roots in history and allowed 'freemen' to carry on certain activities within the city free of some taxes, tolls and dues. The Honour is now symbolic and for military units allows them to march through the city with 'drums beating, bands playing, Colours flying and bayonets fixed'.
The city had decided to award this honour, after VE Day in recognition of the Regiment's service with 11 Armoured Division during the Second World War. The 1st Battalion had landed over the beaches of Normandy shortly after D Day and then fought through France, Holland and Germany, ending the war on the Danish Border where they took part in the final operation of the war in Europe to arrest Grand Admiral Doenitz and his government.
On 29th September a party of soldiers from the Regiment, under Major WAP Crofts MC returned from Germany to take part in the Freedom Parade. Maj Crofts had served with the Regiment throughout the war and had been awarded the Military Cross in August 1944 when he demonstrated great powers of leadership on at least 2 occasions when he led assaults on enemy positions under heavy machine gun and mortar fire capturing and consolidating the positions. Maj Crofts had also been present at the capture of Admiral Doenitz.
The Battalion marched through the city and then paraded in St Peters Square to be addressed by the Mayor and presented with the Freedom document. The Mayor, Councillor T Powell in his address said - The citizens of Hereford are proud of their Regiment. They give thanks to those who have come safely through the fires of battle. They remember with deepest sympathy those who are left to mourn.
The Freedom document was received by Brigadier Jack Churcher, the Regiment's Honorary Colonel who had commanded the Battalion from 1942 to 1944. The ceremony was broadcast by the BBC to members of the Regiment who had remained in Germany.
The right of freedom has been passed to the successors of the Herefordshire Regiment and is now enjoyed by The Rifles Regiment who last exercised their rights of Freedom in June 2019, on the 100ths anniversary of the signing of the Treaty of Versailles which ended the First World War.
The Freedom privileges granted to The Herefordshire Regiment by the city were carried forward to the Herefordshire Light Infantry, The Light Infantry and to the Rifles. Freedom privileges were granted to The Rifles by Leominster, Ross on Wye and Bromyard. The Rifles were also adopted as the County Regiment.