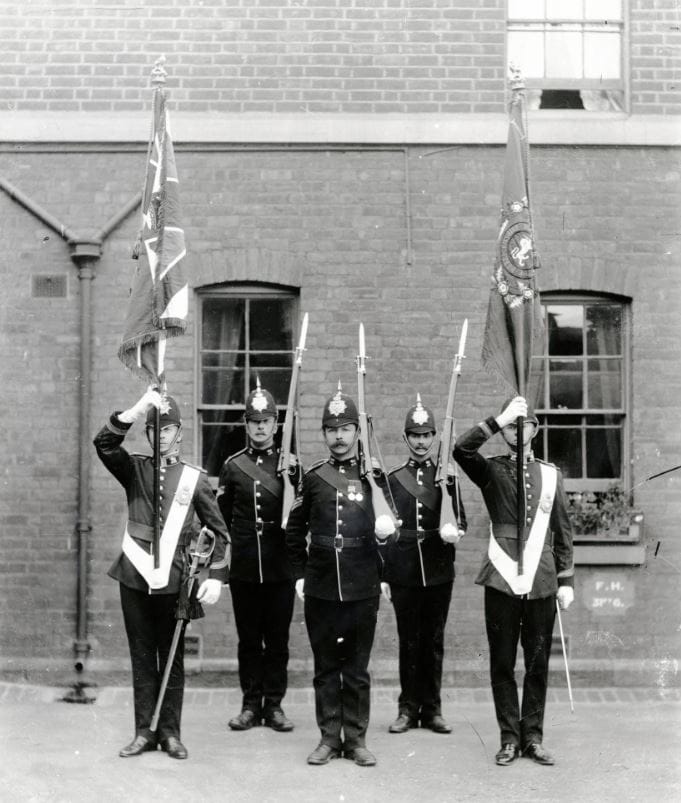 August
The 1937 Coronation Party
This month's feature is a photograph of the Herefordshire Regiment's soldiers from Ledbury, who travelled to London as part of the route lining contingent for the Coronation of King George VI in May 1937.
The photograph was taken outside the Drill Hall in New Street, Ledbury prior to them moving to Hereford to join up with the Battalion route lining party and moving, by train to London.
Pte Neale had served with The Herefordshire Regiment during the First World War at Suvla Bay, and is wearing the 1914/15 Star, the British War Medal and the Victory Medal. His son, Arthur was one of the first battle casualties of the Second World War when he was shot in the neck in France, in May 1940 whilst serving as a Regular soldier with the Kings Shropshire Light Infantry (KSLI). He was evacuated to England, where his mother was able to visit him, but died shortly after she arrived. His funeral took place in Ledbury.
On the expansion of The Territorial Army in 1939, the Ledbury Company became 'Y' Company part of the 2 Battalion The Herefordshire Regiment and served throughout the War as part of the UK defence force. Some individuals did serve overseas; LCpl Bevan served in East Africa and attained the rank of Warrant Officer Class II.