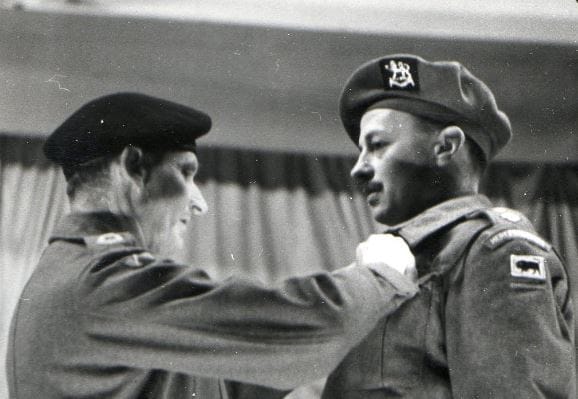 Monthly Feature
Medals and the Man
February 2023
Capt Peter Ashton
Capt Ashton served with the Herefordshire Regiment throughout the First World War. He was Adjutant at Suvla Bay and one of the last members of the Battalion to be evacuated - he said later: "We packed up, not having much to pack, and embarked about 8pm on a single 'beetle', which is a barge with a paddle wheel in the stern. By a strange coincidence we left from identically the same bit of beach as we had landed on just 18 weeks before. As I had been the first ashore I was the last to leave. it was impossible not to help noticing the contrast - that brilliant August morning, the Battalion full of fight, high endeavour and 750 strong! Now this dark December night, slinking away, under 100 strong, weary, dirty, blasé, disillusioned, and yet I was sorry to go."
He was awarded the Military Cross in1918 and also mentioned in despatches 3 times in 1916, 1917 & 1918.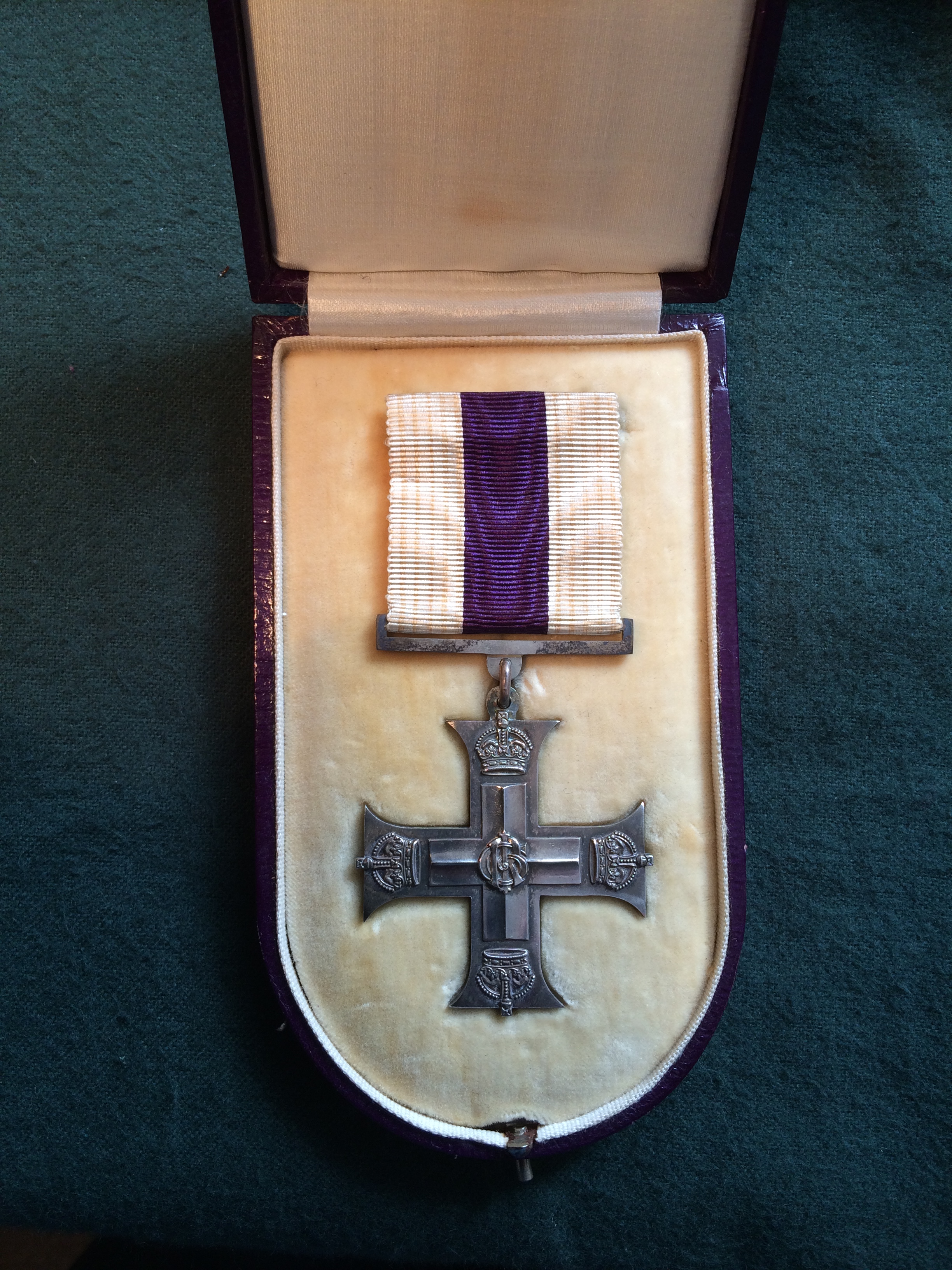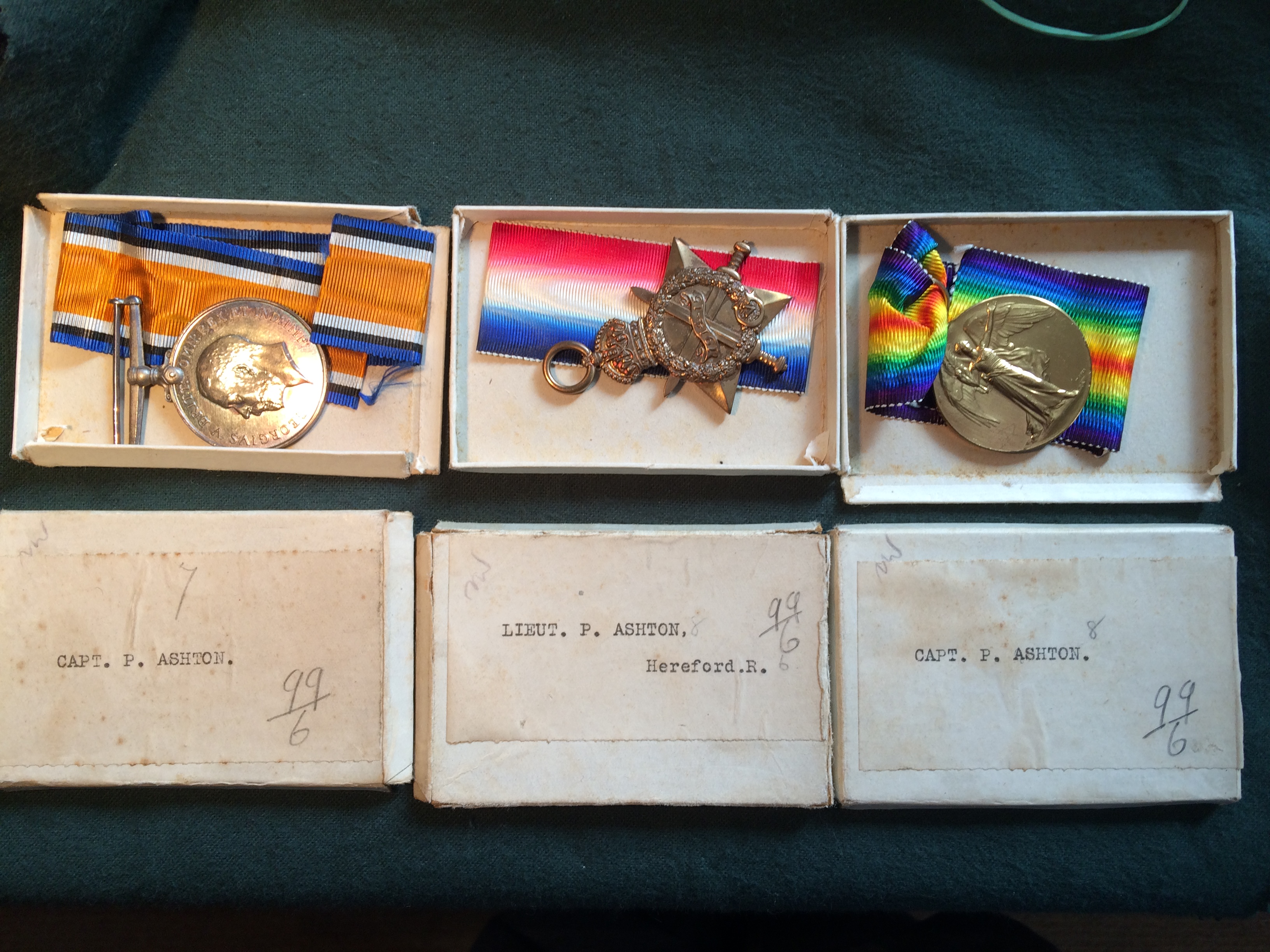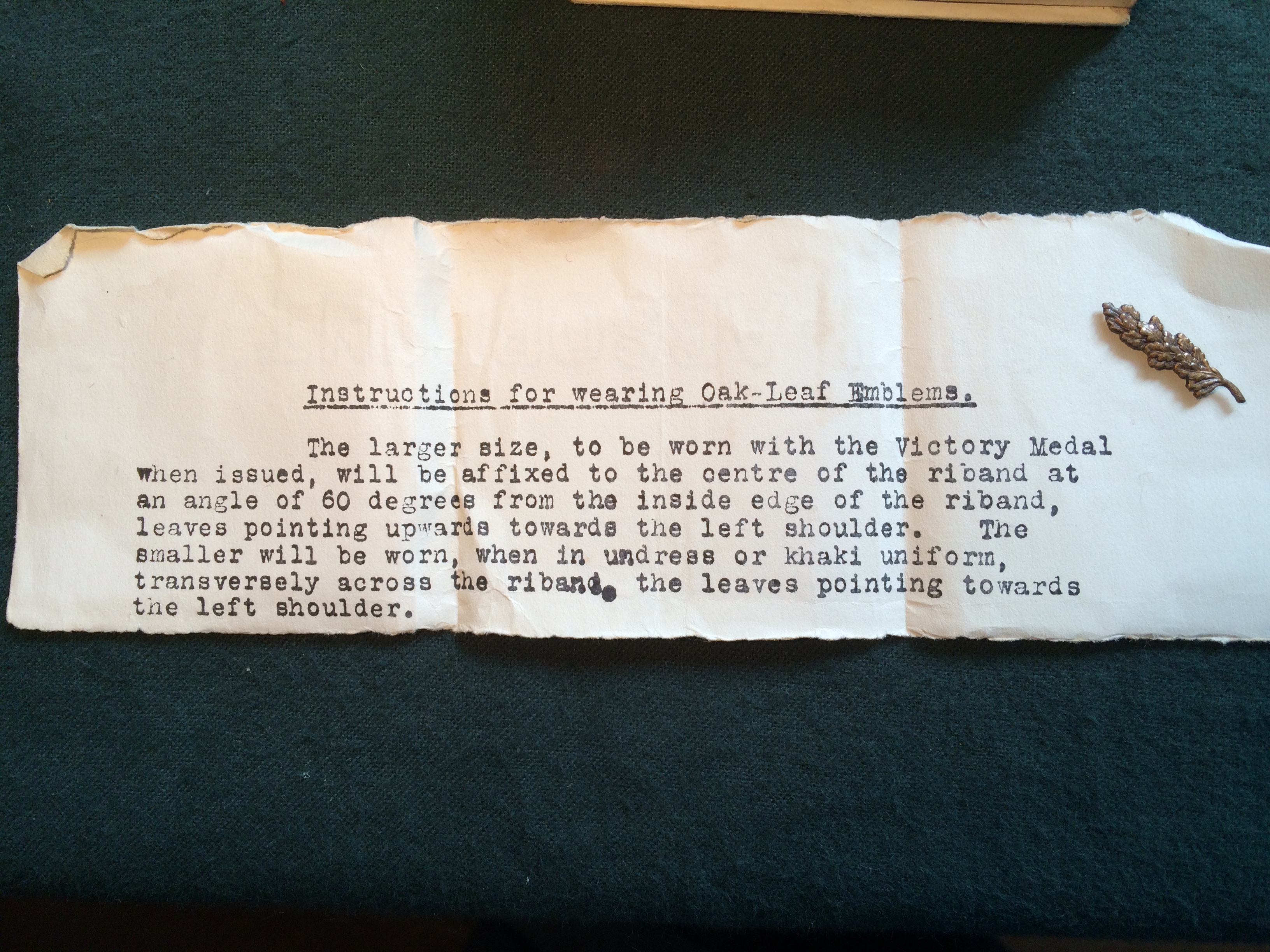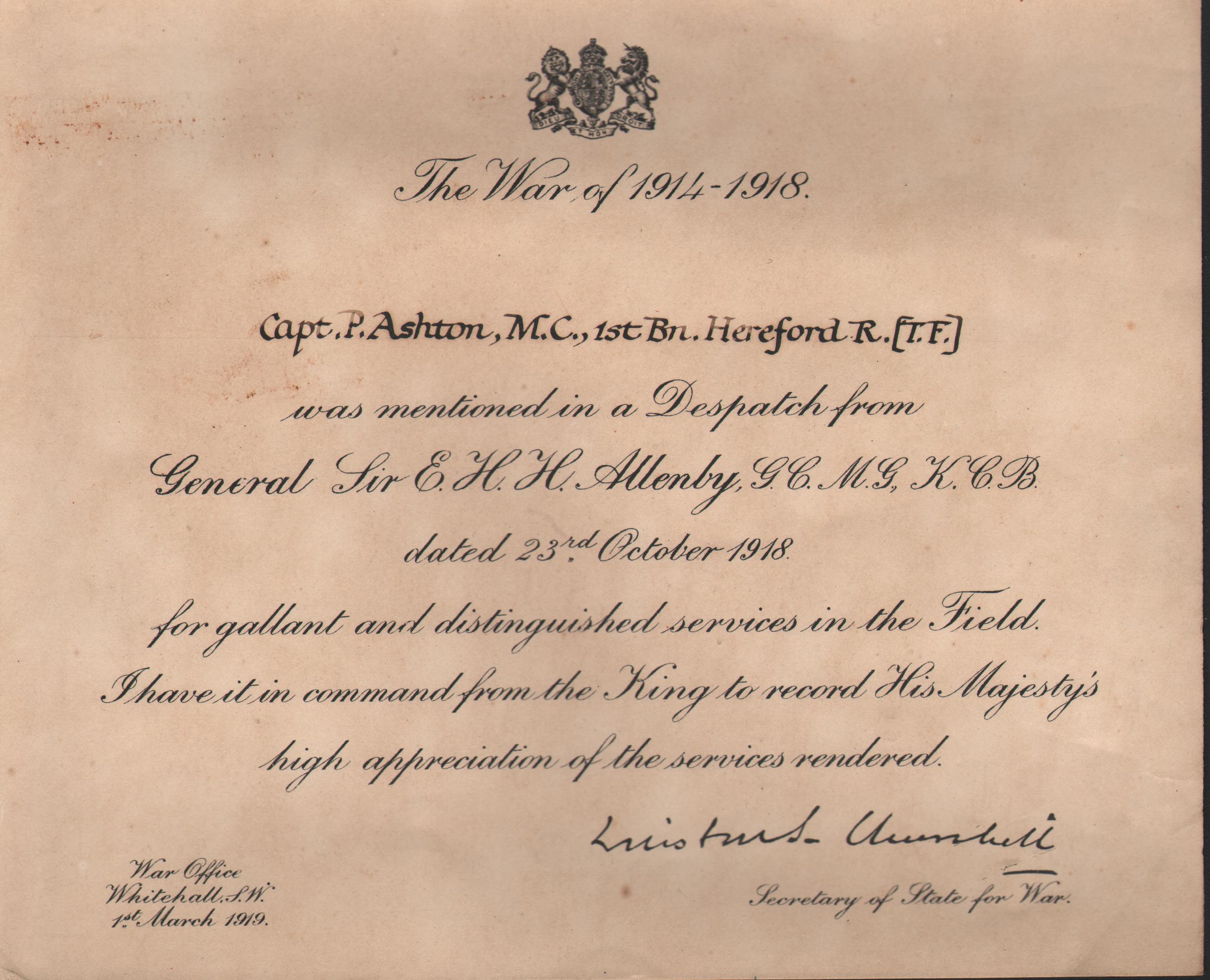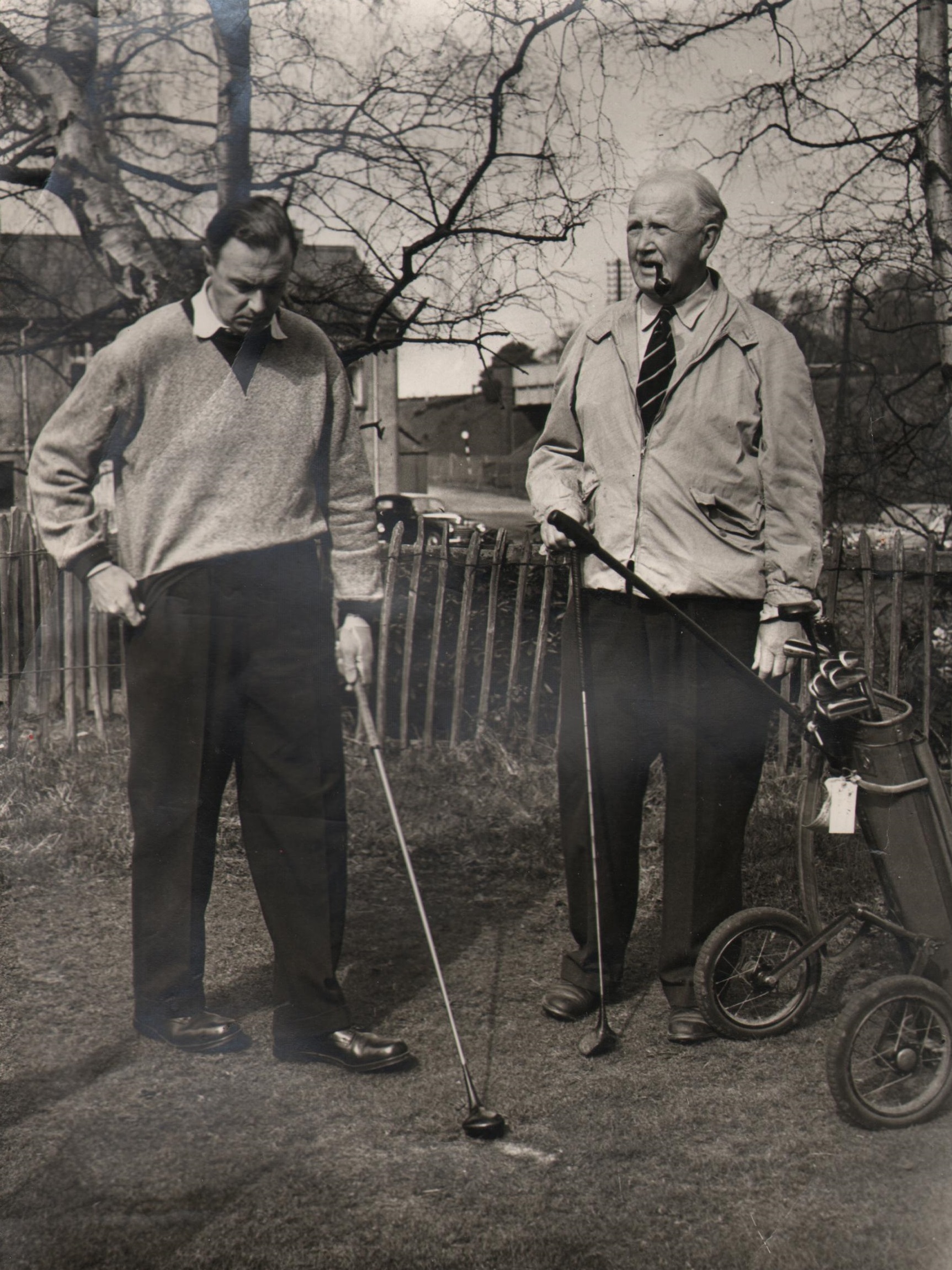 January 2023
Lt Col Gilbert Drage
This months featured medal group is that of Lt Col Gilbert Drage. Lt Col Drage had served in the Royal Marines for 23 years retiring as a major to Herefordshire (Rodd Court, Prestiegne) in 1913 and joined the Herefordshire Regiment, Territorial Force and was appointed Second in Command.
His service on the RM earned him no medal entitlement.
On the outbreak of war in August 1914 he was appointed Commanding Officer of the Herefordshire Regiment and he held that appointment until mid 1918 - including Training in UK and service at Suvla Bay and in the Middle East.
He was awarded the Distinguished Service order in January 1917, The Order of The Nile (Egypt) in November 1918 and Mentioned in Despatches in July and December 1916, and again in June 1918.
December 2022
Capt Claude W Hull
This month the museum features Capt Claude W Hull. He enlisted as a private soldier into the Herefordshire Rifle Volunteer Corps in the late 1890s and served for 5 years. He volunteered for service in South Africa during the Boer War and served as 7581 with the Second Battalion, Kings Shropshire Light Infantry. He was awarded the Queens South Africa Medal with bars - Cape Colony, Orange Free State, Transvaal, South Africa 1901 and South Africa 1902. He appears to have stayed in South Afica on completion of his 12 months service with the Volunteer Service Coy of 2KSLI and served for 12 months with the Corps of Guides.
Before the First World War he emigrated to Canada and on the outbreak of war in 1914 he enlisted in the Canadian Field Artillery, subsequently being Commissioned and serving in France.
He was repatriated to Canada and died 20th February 1919 - the cause of death is not known but he has a Commonwealth War Graves Commission headstone. He was awarded the 1914/15 Star, The British War Medal and the Victory Medal.
Claude's brother - Percy - was organist at Hereford cathedral and was on an organ tour of Germany when the First World War broke out. He was interned in Ruhleben vamp for civilian internees for the duration of the war. After the war he was instrumental in organising the Three Choirs Festival.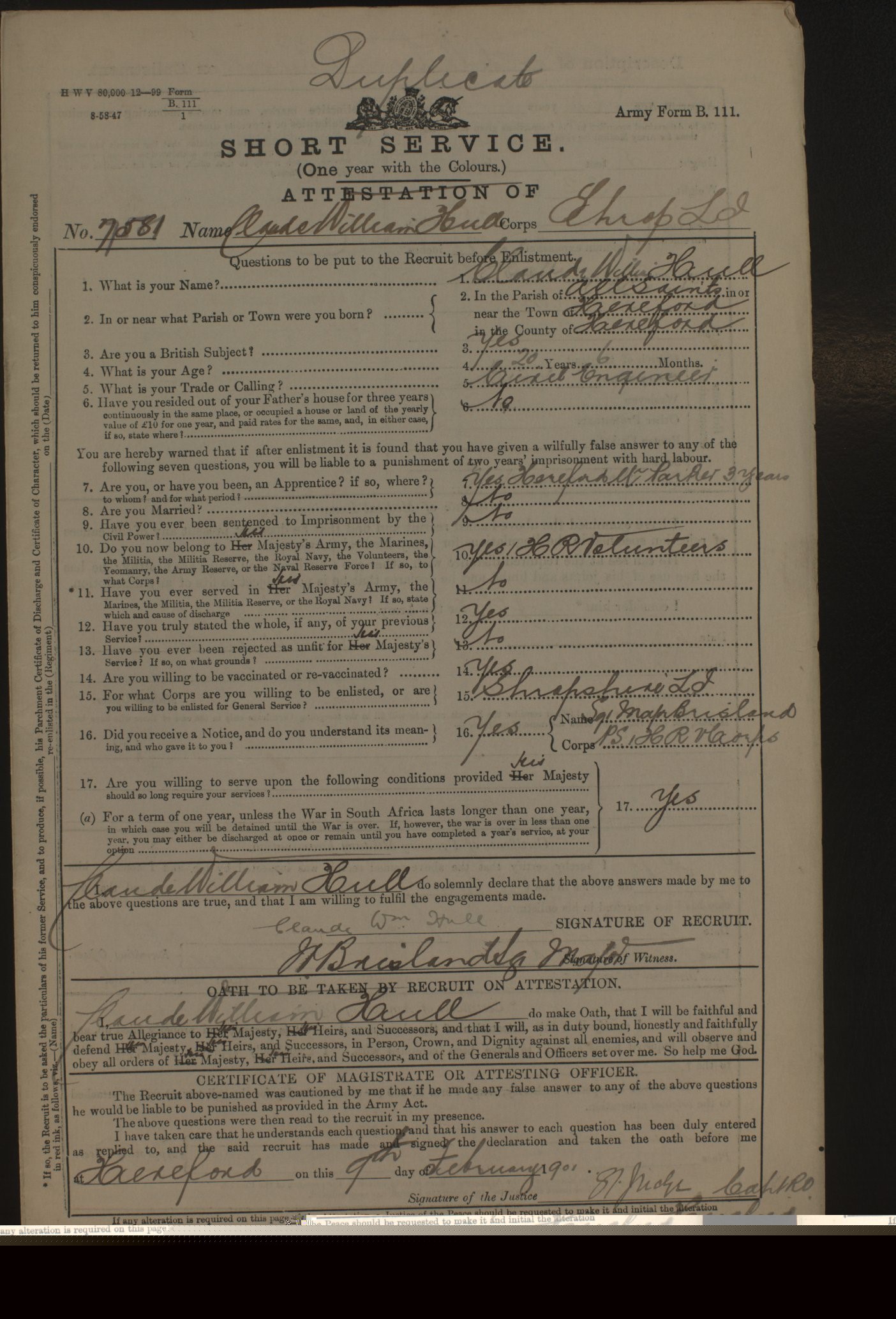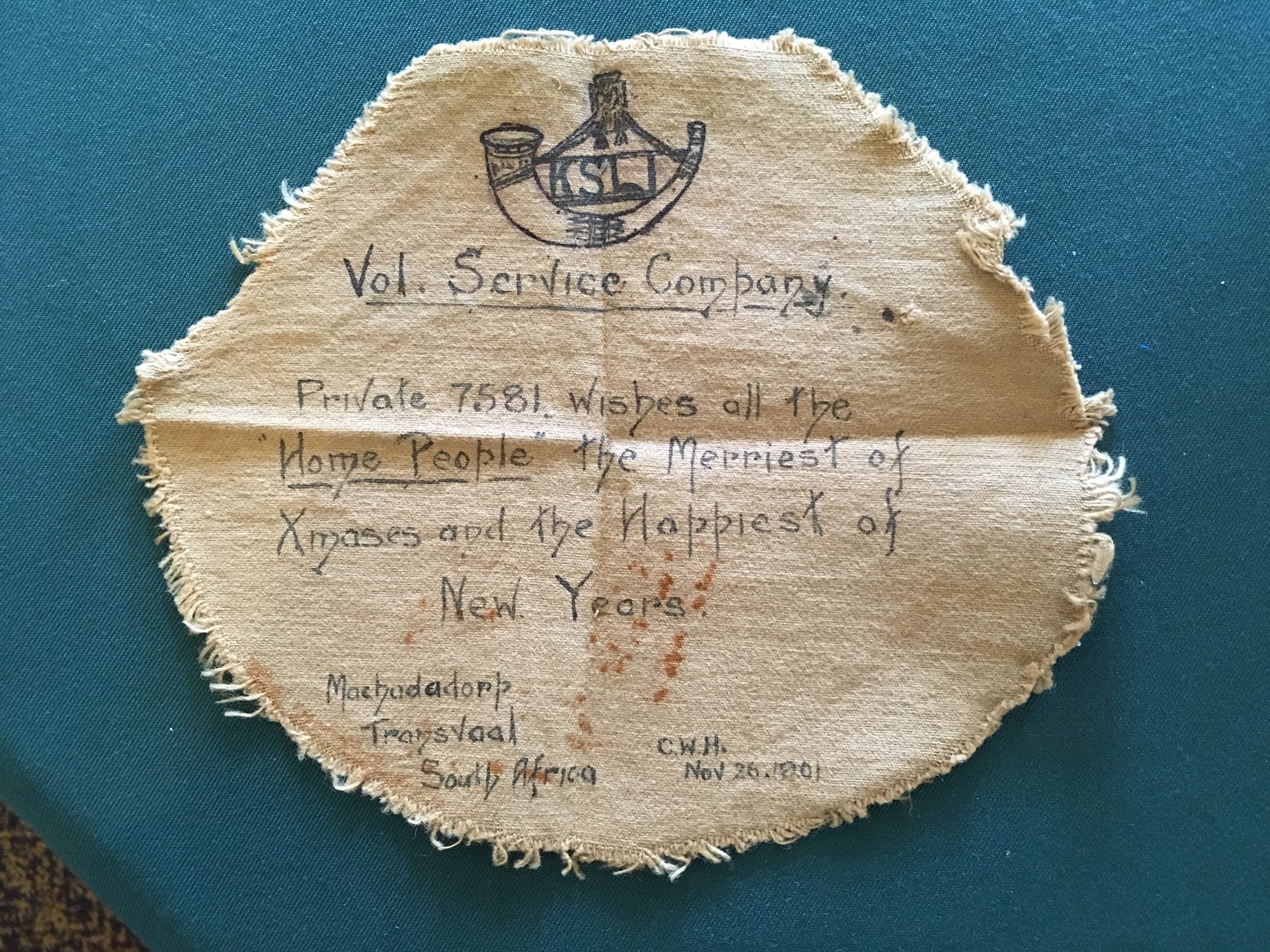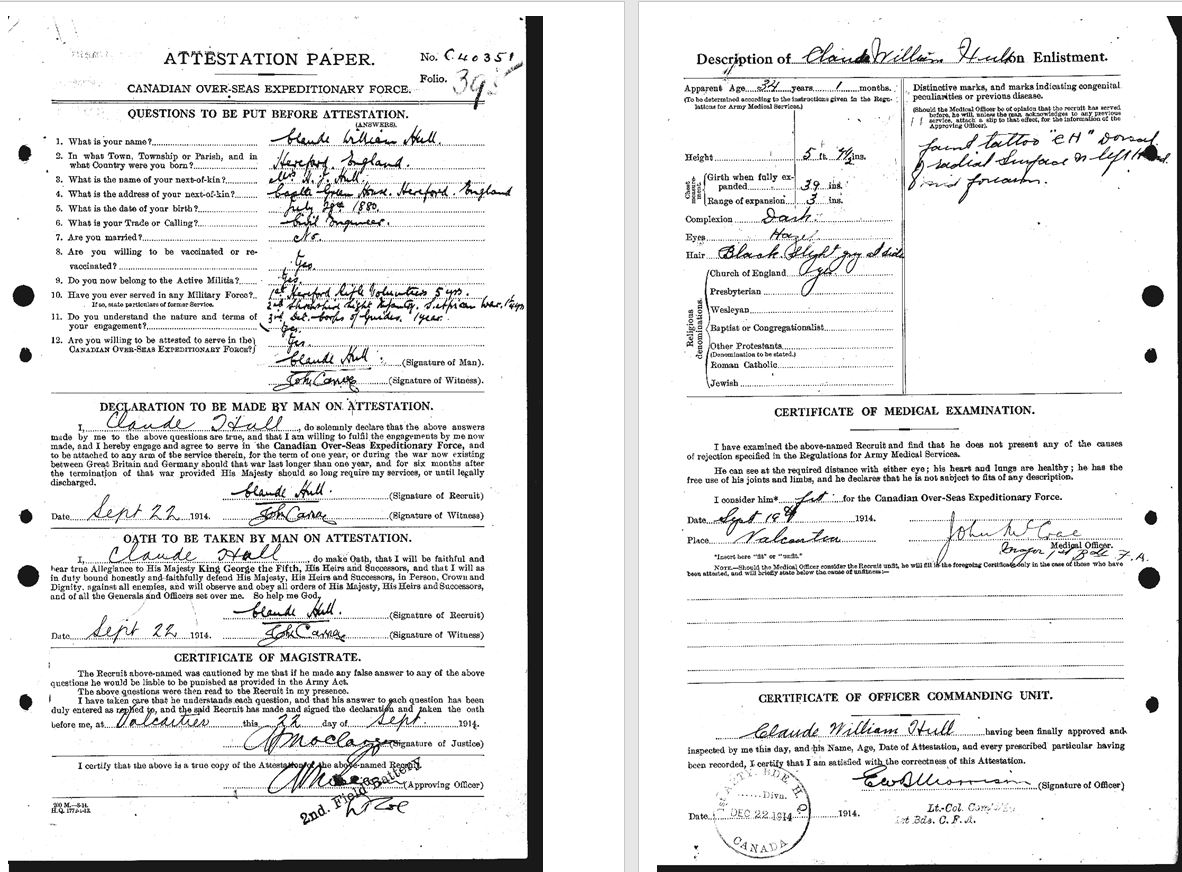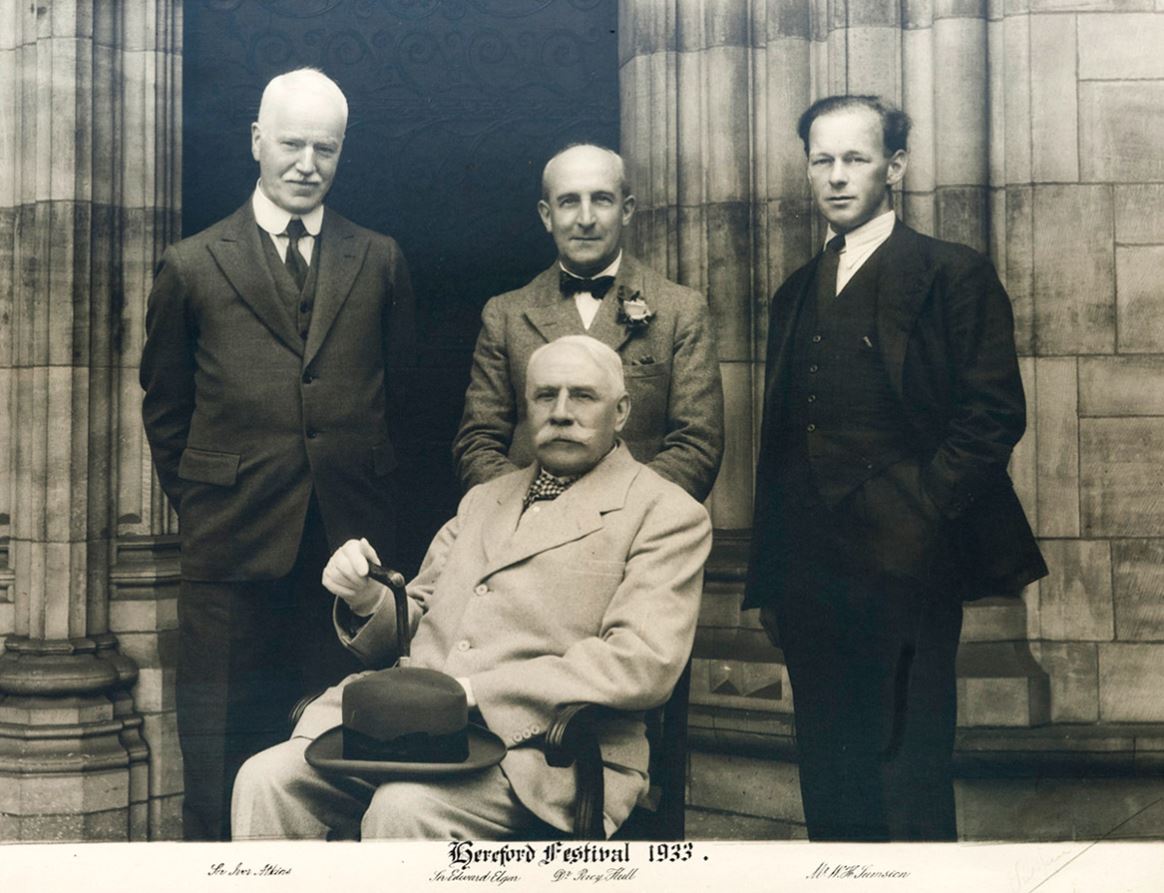 October 2022
Major Colin JM Howe
This month's featured medals group is that of Colin John Malcolm HOWE. He was born 31 July 1919 in Bromyard and enlisted into the 2nd Battalion The Herefordshire Regiment in May 1939. His address was shown as The Post Office, Madley and his profession 'Teacher'. He completed various courses and was employed as a clerk and CQMS. His medal group comprises of: 39/45 Star, France & Germany Star, Defence Medal, War Medal, Efficiency Medal (Territorial) and Cadet Force Medal.
The EM(T) is named to 4105444 Colour Serjeant, WELSH Regiment. It is presumed that on the disbandment of the 2nd Battalion The Herefordshire Regiment he was transferred to the Welsh Regiment. As a CQMS he was not at the forefront of the fighting but recalled when he did meet a German soldier. In Germany he disappeared into a wood on a 'shovel recce' as he was settling down to do his business he looked around and saw a German soldier, about 100 yards away doing the same thing and looking at him! Both hurriedly completed their business, composed themselves waved and went back to their own lines!
After the War he returned to Bromyard and was a teacher there all of his life. He was an instructor with Herefordshire and later Hereford & Worcester Army Cadet Force and in the rank of (389177) Captain received the Cadet Force Medal in 1972. He was Officer Commanding of C (Herefordshire) Company.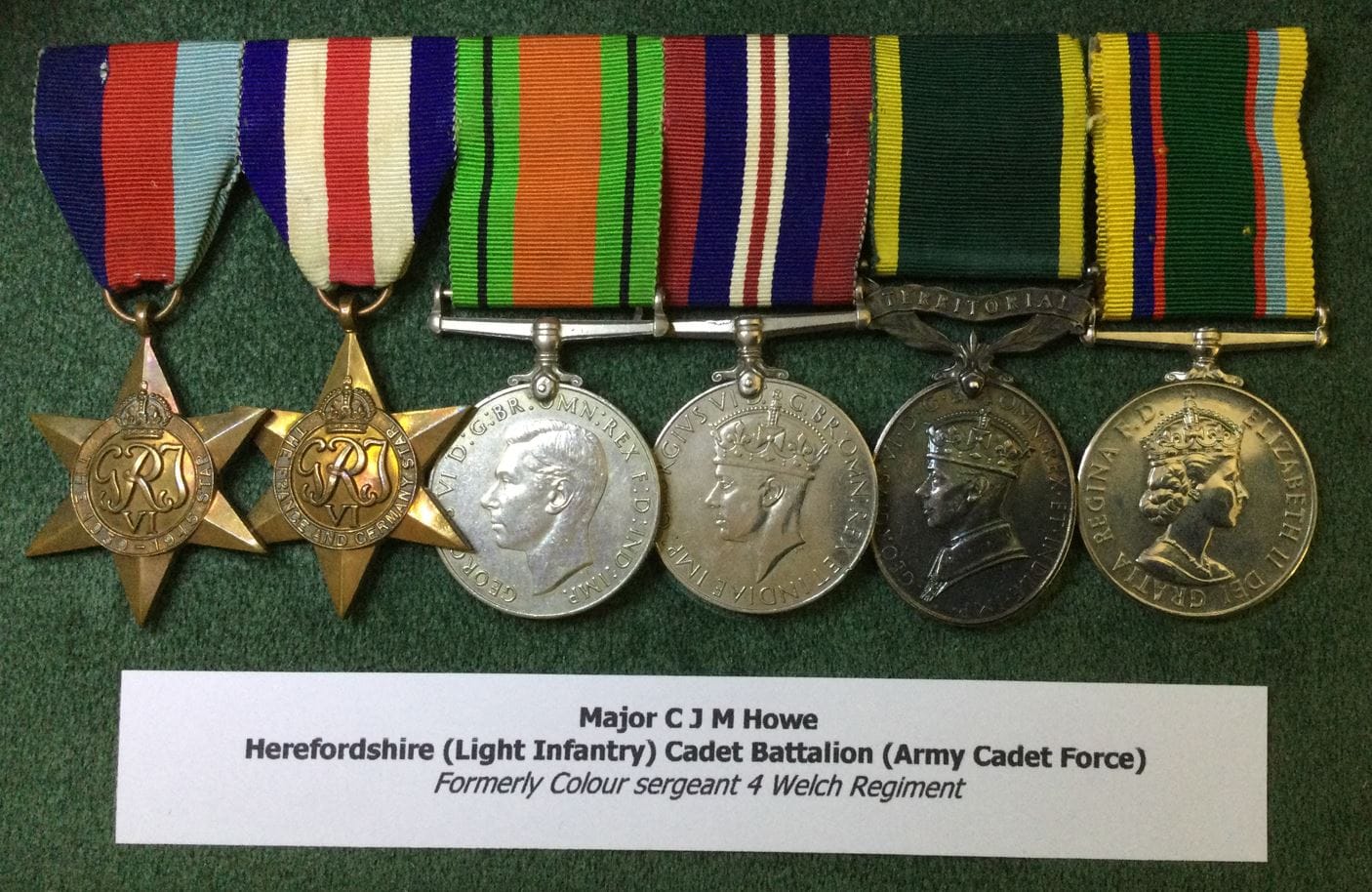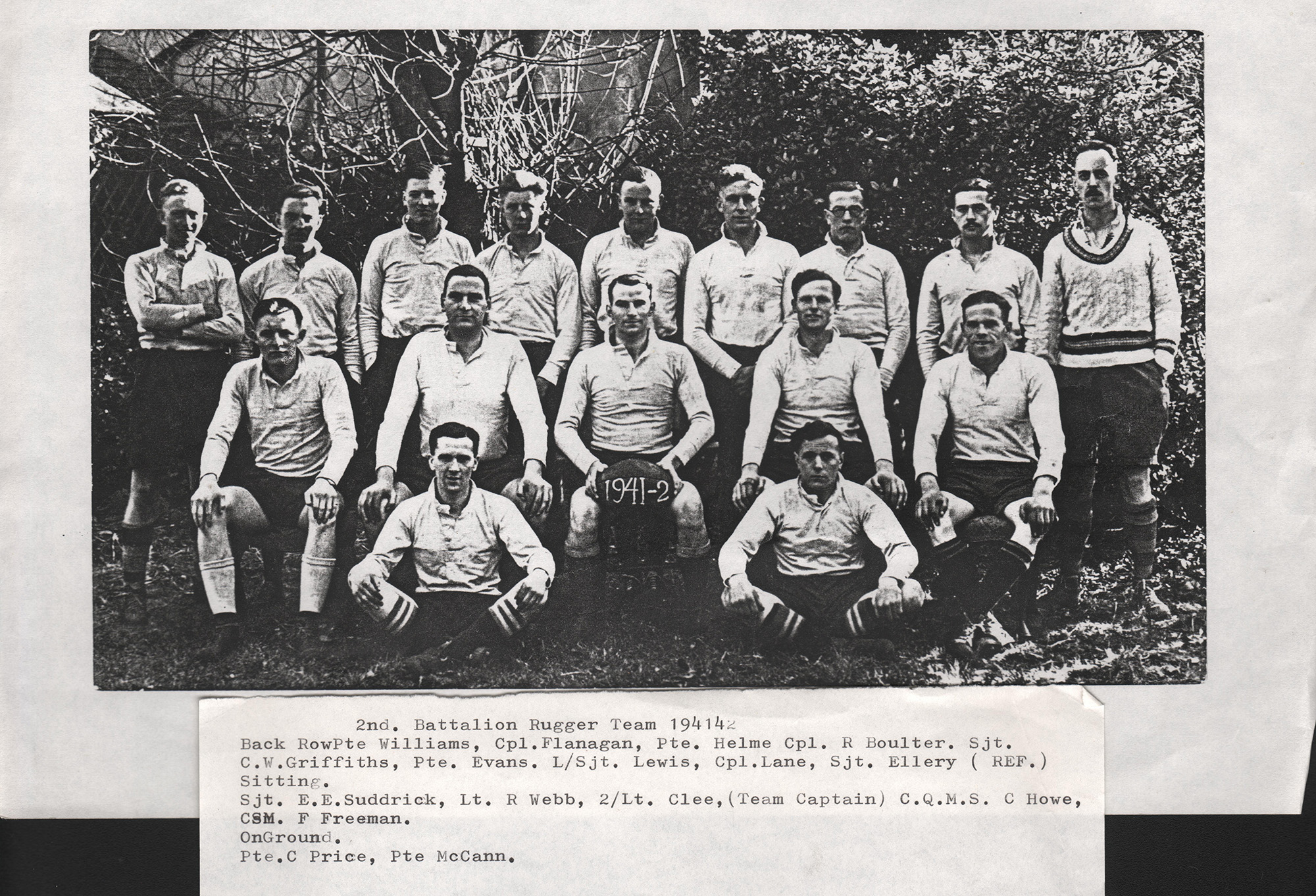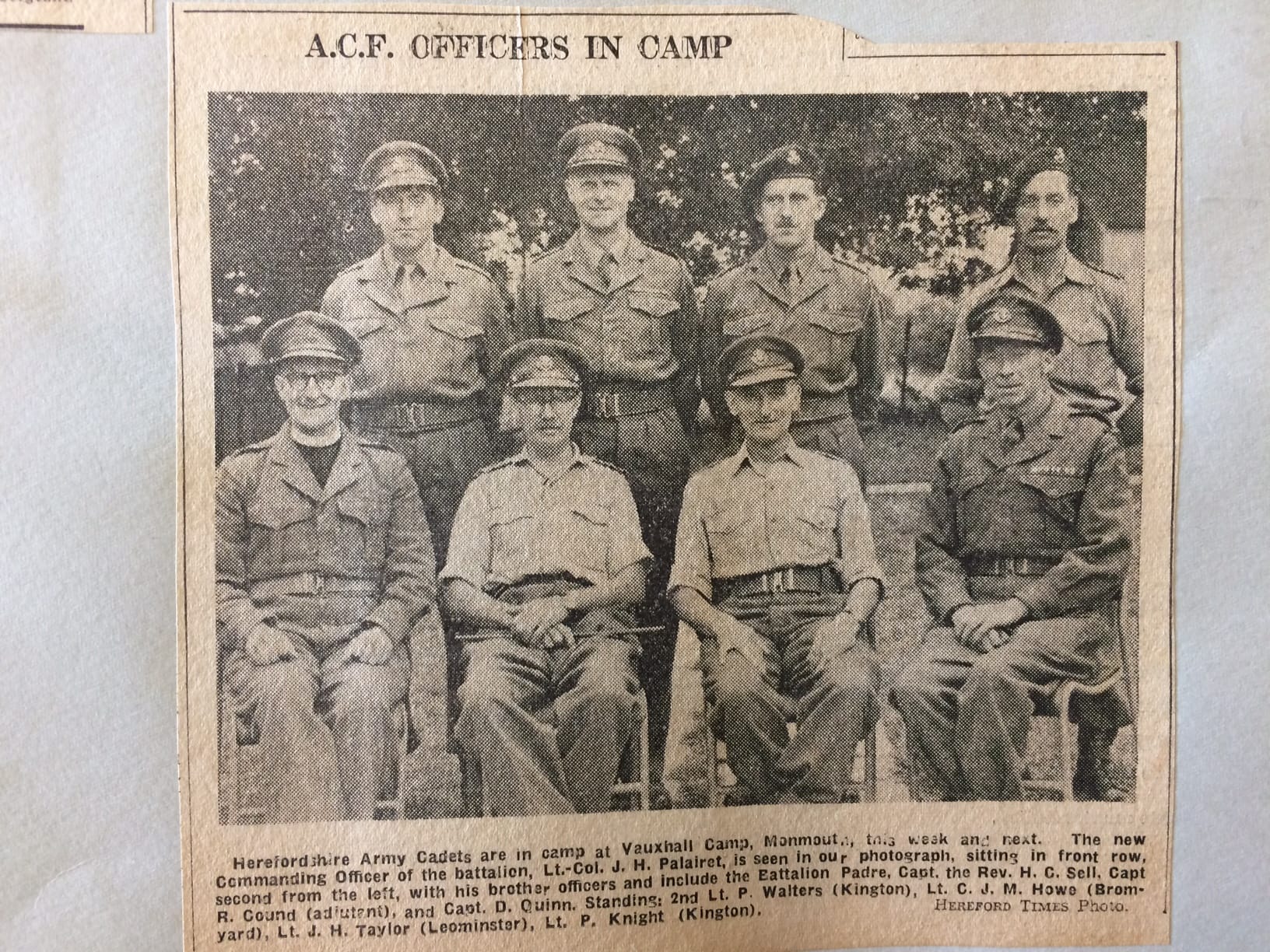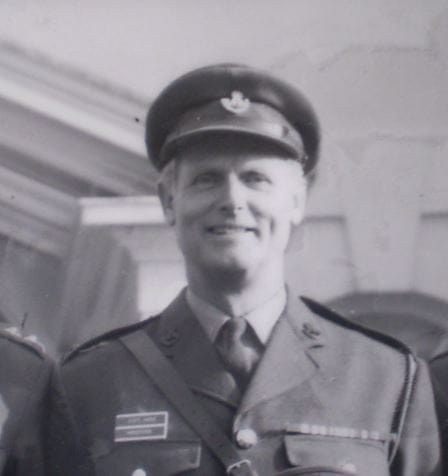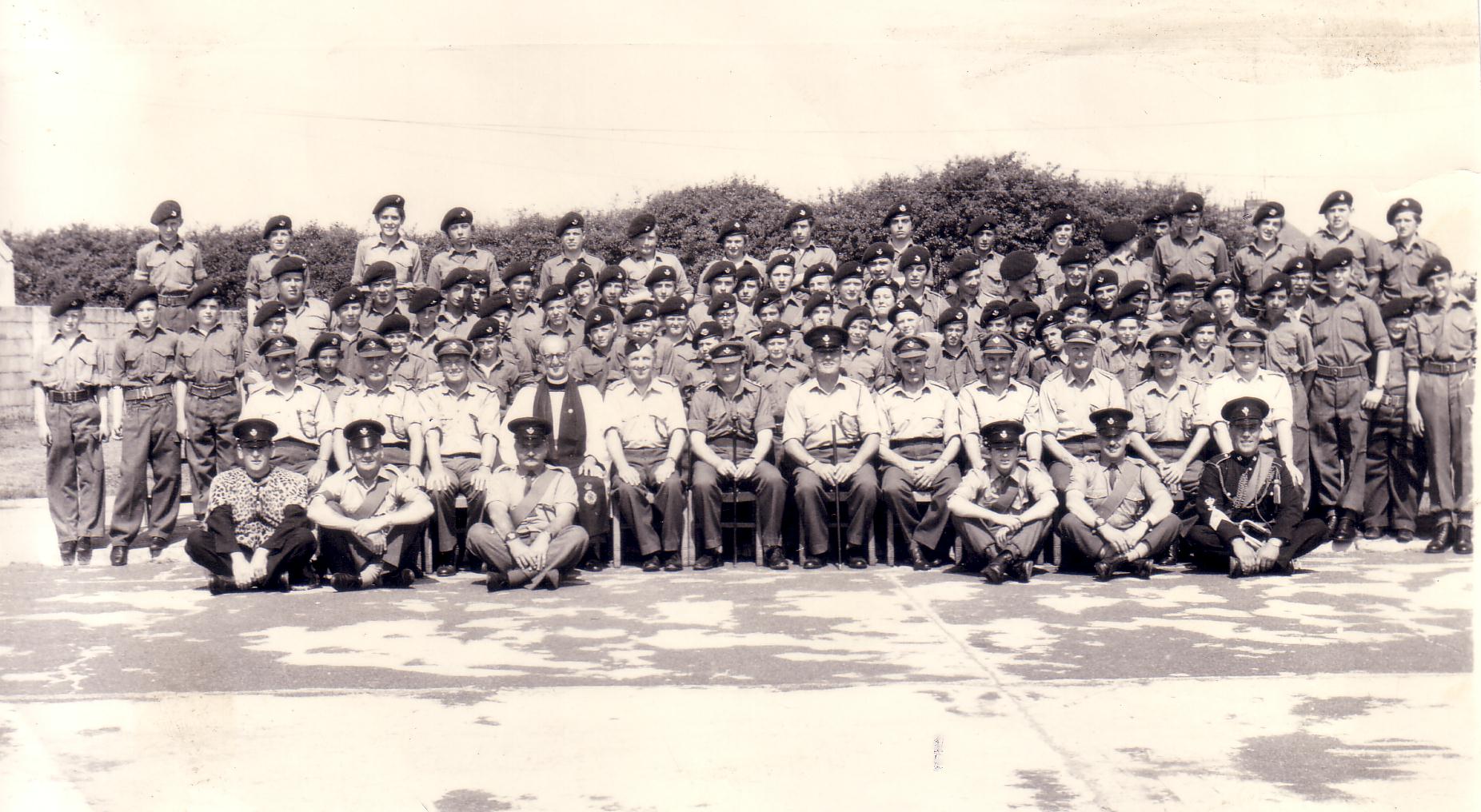 September 2022
14825453 Pte Charles Edwards
This month's featured soldier is 14825453 Private Charles Robert EDWARDS. His medal entitlement is the France & Germany Star and the War Medal. This is a typical entitlement to a soldier enlisted late in the war and when posted to an operational theatre did not complete 180 days service and therefore had no entitlement to the 1939-45 Star, but did complete 30 days and therefore qualified for this medal. As a late enlistment he did not complete 3 years service in a non-operational service and therefore did not qualify for the Defence Medal but again completed 30 days in uniform and qualified for the war medal.
Edwards was born 24 July 1926 and enlisted (was conscripted) 17 August 1944. He enjoyed 14 days embarkation leave from 5-18 February 1945 and presumably deployed overseas soon after this.
He was employed as a clerk and was discharged with 56 days leave in November 1947.
August 2022
Pte Dykes Football Medal
This month's featured 'man behind the medal' is 1712 (235396) Private Edwin John Dykes.
He had been one of the first to enlist after the outbreak of war in August 1914 and saw service at Suvla Bay in 1915, the Middle East in 1916, 17 & 18 before moving with the Battalion to the Western Front in 1918. He is probably one of the few that served throughout the war with the Regiment. It is not known if he was wounded – no trace of him applying for a pension has been found, but if he served throughout without 'a scratch' or illness he was extremely fortunate!
The Museum holds some postcards which he sent to his family – one from Oswestry in August 1914, one from Egypt and one from Germany when he was part of the Army of Occupation of the Rhineland in 1919.
He was awarded the 1914/15 Star, British War and Victory Medals, but featured is his Regimental Football Medal awarded when part of the Army of Occupation in Siegbury (should be Siegburg!) 1918. The war diary records inter platoon football competitions, officers v sergeants matches and games played against the ASC (4-1) and RFA (3-1), clearly the Battalion had quite a good team.
He was also presented with a 'Tribute Medal' (sometimes called a welcome home medal) from Almeley.
Clearly his football career continued and he was presented with a Herefordshire Football League medal in 1920 playing for Eardisley FC.
May 2022
Lt Gen Sir Edward Hopton
This months featured man is Lt Gen Sir Edward Hopton. His medals are held by the Museum on loan from the County Museum. The medals were loaned to the Museum in 1981 and during the recent re-ordering of the Museum displays were researched and it was discovered that 2 of his medals (the Turkish Crimea and 1897 Jubilee)  had never been handed over to the Regimental Museum. Herefordshire Museum were contacted and a search made and the Turkish Crimea was located and re-united with the others after a 'few' years apart!
His full medal entitlement is: Knight Commander of the Bath (KCB), neck badge and breast star, Crimea with bar Sebastopol, Indian Mutiny Medal with bar Central India and the South Africa Medal with bar 1877-8-9, The 1897 Queen Victoria Diamond Jubilee Medal and the Turkish Crimea Medal; all but the Jubilee Medal are displayed in the Regimental Museum.
Lt Gen Sir Edward Hopton's association with Herefordshire is that he lived at Canon Frome Court and in 1903 was appointed as the Honorary Colonel of the 4th Battalion of the Kings Shropshire Light Infantry - this was the Herefordshire Militia Battalion.
He had had a full an interesting military career - born in 1837 and Commissioned into the Connaught Rangers in 1854. He served in the Crimea at the siege of Sebastopol and the assault on The Redan and was severely wounded. He then served in India during the Mutiny and was present at the siege of Lucknow and Culpoe. His next war was in South Africa with the Zulu War of 1897-9. His last appointment was as Lieutenant-Governor and commander of all troops Jersey and he retired from here in 1900.
Gen Hopton was a tall man and sported a full beard - in South Africa he adopted the habit of wearing soldiers uniform so that he did not stand out as an officer.
He died in January 1912.
Both his sons died in WW1. Captain Guy William Hopton Royal Berkshire Regiment died Belgium 27 July 1915 and Lieutenant Edward Michael Hopton Shropshire Yeomanry died in Alexandria 17 March 1916 - both are remembered with memorials in Stretton Grandison Church.
For more about the Hopton's and Cannon Frome Court please see the monthly feature 'The Camera Returns'.
See more about 'The Hoptons' in this months The camera Returns feature.