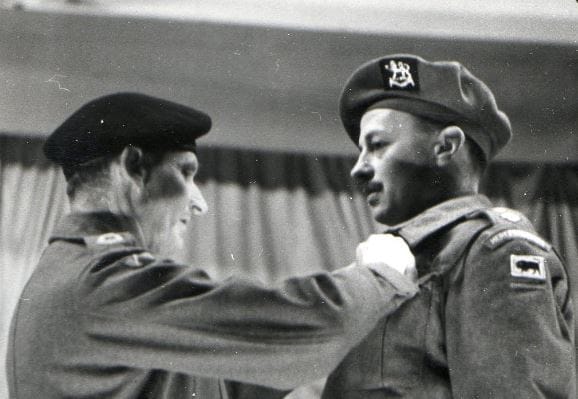 Monthly Feature
Medals and the Man
January 2022
Sgt Joseph Davies - Victoria Cross
The Herefordshire have never been awarded a Victoria Cross (VC), but Joseph J Davies who won a VC during World War One did serve in The Herefords after the war.
Davies was born in Tipton, Staffordshire in 1889. His father (John) had been a regular soldier for 12 years serving with the Royal Fusiliers including service in Afghanistan where he was wounded; he later became a miner.
Joseph enlisted in the Welsh Regiment at Cardiff in 1909; he served in Egypt and became an Armourer's Assistant; he also served in India as a Regimental Policeman. He returned to England in December 1914 and the battalion moved to France in January 1915. He was wounded at Ypres in March and evacuated to England. He was promoted and as a Lance Corporal transferred to the Royal Welsh Fusiliers in August. He was promoted Corporal in April 1916 and posted to the 10th Battalion in France in May 1916.
In July 1916 at Delville Wood, prior to an attack, Cpl Davis and 8 men became separated from the rest of the company. When the enemy delivered a second counter attack, the party were surrounded; Cpl Davies got his men into a shell hole and by throwing bombs and opening rapid fire succeeded in routing the attackers, and followed this up with a bayonet charge.
As Davies later recounted:
"All night on the 17th we had been digging trenches and an order came that we were to return to our reserve trenches. Then came the order to attack a certain wood and capture it at all costs. That night we started off from our trenches, and went on swimmingly until we got within 500 yards of the enemy when fire broke out heavily, chiefly shell fire. We lay down and waited under heavy shell fire until such time as we could progress. When at last we were able to do so, we reached the outskirts of the wood and presently we heard shouts on the left and found we were being counter-attacked. the rear part of our lot thereupon retired, but I got some of my men into a shell hole and told them to keep their fire until I had used all my bombs. We were practically surrounded by the Germans, but we managed to repulse the counter-attack, killing many of the enemy. Then we had to face a heavy fire from another direction, so I made a gap through the enemy's lines, took my men with me, and so joined up with the rest of my company. After this we got ready for the resumption of the original attack, and as all our officers had become casualties, I took command and led two platoons into the firing line. We were cut up, so being lucky enough to escape myself, I returned for another platoon and took them into the firing line as well. They suffered a similar fate and then another platoon came up and we reached the wood. A subaltern joined us then and after trying to get reinforcements we manoeuvred for position, and by making a loop trench got possession of three parts of the wood. I took command of this position, and we held on until we were relieved some hours later"
He was immediately promoted to Acting Sergeant and wounded in the left shoulder on 8 August and evacuated to England.
He was presented with his award by the King at Buckingham Palace in October 1916; his arm was still in a sling and the medal was pinned to his sling.
He was further awarded the Russian Order of St George in February 1917.
His wound made him unfit for front line duty and he transferred to the Military Provost & Staff Corps; he was discharged in December 1918.
The exact circumstances of his move to Hereford are not known, but he married Elsie Thomas at Hereford Registry Office in June 1919.
He proposed the toast of thanks to the 'committee and helpers' who organised the city's welcome home for returned sailors, soldiers and airmen in September 1919.
He joined the Herefordshire Regiment on 17th November 1920 and his trade is shown as 'Labourer'. He attended annual camp in 1921 and 1922 and was discharged in November 1922. No photograph of him during his time with the Herefords has been discovered.
The family (wife and 2 daughters) moved to Birmingham where Joseph worked for the gas Corporation. They later moved to Dorset.
He was unfit for service with the Home Guard during the Second World War, but served as an Adult Instructor (Regimental Sergeant Major) with the Dorset Army Cadet Force, he was also the Chief ARP Warden at Oakdale Poole and worked at the RN Cordite Works.
Joseph Died in 1976. His medals entitlement was:  Victoria Cross, 14/15 Star, British War Medal, Victory Medal, WW2 Defence Medal, GVIR Coronation Medal, EIIR Coronation Medal, Russian Order of St George.
The medals are held by the Royal Welsh Fusiliers museum at Caernarfon.
December
Capt John Fox-Russell VC MC
The Victoria Cross in the highest gallantry award available under the British Honours system - It is awarded regardless of rank and ranks above any other Honour or Award. It was instituted in 1857 and to date some 1,358 have been awarded; the majority during the First World War.
No member of the Herefordshire Regiment has been awarded a VC but Captain John Fox-Russell was the Regimental Medical Officer of the 1/6th Battalion Royal Welch Fusiliers, part of 159 Brigade but attached to The Herefordshire Regiment when he won his Victoria Cross.
In the 3rd Battle of Gaza, November 1917 he was attached to the Herefordshire Regiment and it was during the action at Khuweilfeh he was awarded the VC for:
most conspicuous bravery displayed in action until he was killed. Captain Russell repeatedly went out to attend the wounded under murderous fire from snipers and machine-guns, and in many cases, when no other means were at hand, carried them in himself, although almost exhausted. He showed the greatest possible degree of valour.
An extract from the Battalion War Diary for the period records: About 1am the Battalion formed up in front of its bivouacs prior to moving forward the brigade place of assembly prior to attack. The Battalion, which should have been accompanied by a battalion of the Imperial Camel Corps, arrived at about 3.40am and took up its ordered formation of companies in platoon waves at 25 yard distances; each company having one platoon in the front line. Order of companies from right to left:
D – Capt Carver
C – Capt Evelyn
B – Capt Birnie
A – Capt Russell.
On the left of the brigade lines was 1/7 RWF, left of the Herefords were the 1/6 RWF by which the Battalion was to march. The Battalion had been ordered to take up a frontage of 500 yards, but owing to inaccuracies in the map and the necessity of getting astride the ridge leading up to the table topped mountain, it was found necessary to increase the frontage to well over 1,000 yards and this in spite of the fact that the Battalion of the Imperial Camel Corps had been diverted to operate on the right flank of the Battalion.
At 3.48am some of our guns fired which caused some slight misapprehension as it was thought that our artillery barraged was timed for 4am had commenced. At 4am the Battalion moved steadily forward, covered by a heavy artillery and machine gun barrage, but for some reason touch had not been made with the 1/6 RWF on our left. Owing to the configuration of the ground, the tendency of the Battalion was rather to converge on its left and it was not clear that D Coy actually moved over Table Top Hill, an impossible hill to hold. Some of the Herefords became mixed up with the Imperial Camel Corps who afterwards came up on the left flank. The Battalion pushed on and reached the reverse slope of Tel El Khuweilfeh, shooting and bayonetting many Turks on the way.
Here abouts 9 Turkish guns were captured and the transport of a machine gun company decimated. Unfortunately our artillery barrage opened up again and compelled the Herefords to abandon their captured guns. At this time there was driving mist making it impossible to distinguish friend from foe at more than a few hundred yards.
From the above cause and the very accurate shooting of the enemy guns and snipers the Battalion suffered rather heavy casualties, especially amongst the officers, 6 of whom were killed while gallantly leading the men and 5 were wounded. The Battalion maintained the position it had won until relieved by 1/5 RWF the next day.
During the course of the battle the Battalion took 5 officers and 39 soldier prisoner and 10 soldiers the next day.
On relief the Battalion moved to bivouac area in reach of brigade battle HQ.
Capt Fox-Russell's wife, Alma whom he married in September 1916 was presented with his Victoria Cross by King George V at Buckingham Palace on 2 March 1918.
He had previously been awarded the Military Cross for his actions during the 1st Battle of Gaza and also mentioned in despatches. He was also awarded the Territorial Force War Medal and his medals are in The Royal Army Medical Corps collection.
John Fox-Russell had been born in Holyhead North Wales and attended Magdalen College, Cambridge and St Bees school in Cumbria before completing his medical training at The Middlesex Hospital. He was a member of the Officer training Corps and was mobilised in August 1914.
Two other old boys from St Bees also won Victoria Crosses - Captain Leefe-Robinson RFC and Captain Wain Tank Corps.
He is buried in the Beersheba Commonwealth War Graves Commission cemetery.
On the centenary of his award a paving stone was unveiled in Holyhead.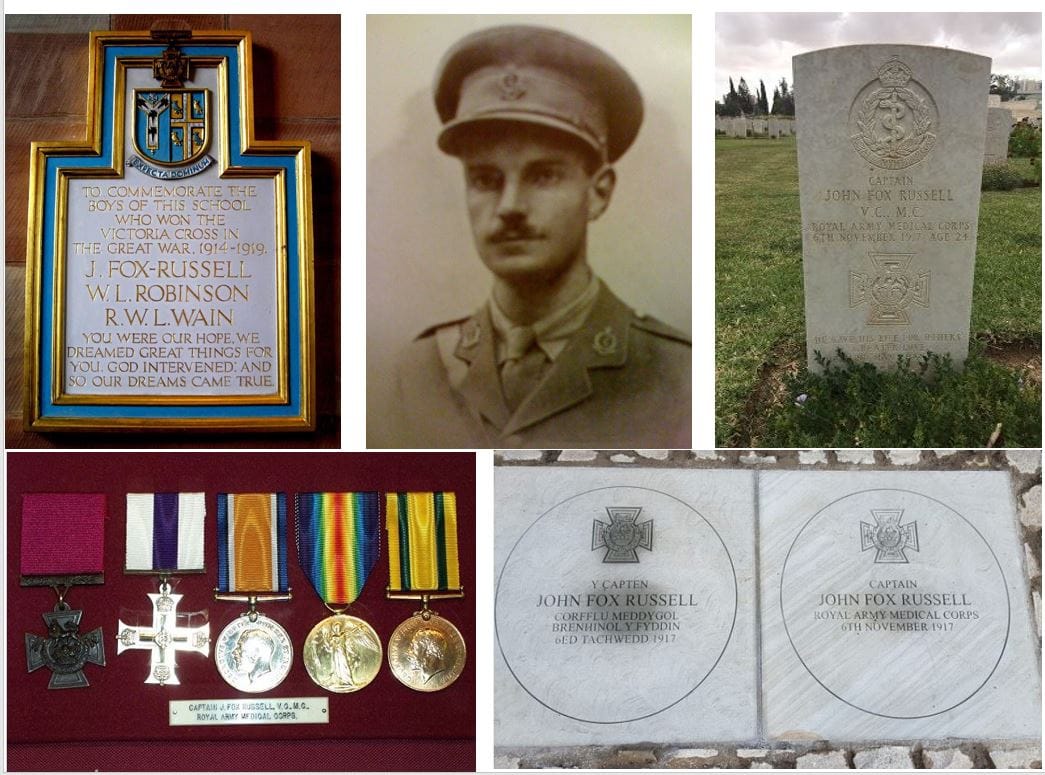 November
Sgt C Jones
This months featured man and medals is Sgt C Jones. His full service career is not known but much can be surmised from his medals. It is known he worked for the Post Office in Hereford and a photo of Territorials serving in the Territorial Force shows him sat in the middle with his 3 pre World War One medals whilst serving with The Herefordshire Regiment. Also in the photo are other men serving with The Herefordshire Regiment, The Shropshire Yeomanry, The Royal Gloucester Hussars, The Royal Army Medical Corps and the Army Service Corps.
Sgt Jones medals are as follows:
Queens South Africa - Sapper Royal Engineers
Kings South Africa - Lance Corporal Royal Engineers
1914/15 Star - Sergeant Royal Engineers
British War Medal - Sergeant Royal Engineers
Victory Medal - Sergeant Royal Engineers
Meritorious Service Medal - Sergeant Royal Engineers awarded June 1919
Volunteer Force Long Service Medal - Serjeant Herefordshire Rifle Volunteer Corps awarded January 1909
Imperial Service Medal - Charles Jones - awarded for service with the GPO March 1928
Postal services were provided during the Boer War and First World War by the Royal Engineers, it is assumed he was employed in this specialisation.