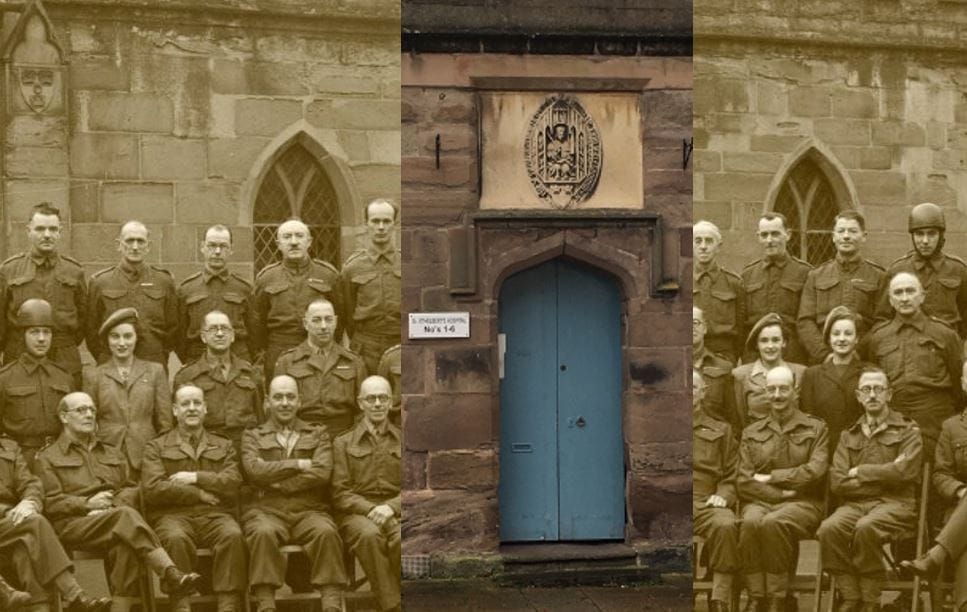 Monthly feature
The Camera Returns
June 2023
Castle Green
This month's comparison shows Castle Green in 1914 and today! It has not been possible to make an exact comparison, but the similarities are clear.
In 1914 the many volunteers to the Herefordshire Regiment on the outbreak of war, meant there were no uniforms, no barracks and few instructors. However the volunteers were keen and 'signed on'. They were billeted in tents, in schools and church halls and also their own homes! Very little training could be delivered - but drill could be and open spaces such as Castle Green were used. The drills became a spectacle in their own right and also further boosted recruiting.
On 17th June 2023 a Herefordshire Cadet Coronation Parade is to be held on Castle Green. Cadets from the CCF, SCC, ACF and RAFAC will parade to commemorate the Coronation of King Charles III and Queen Camilla.
May 2023
Bishop's Meadow
This month's feature photos are both taken on Bishop's Meadow Hereford. The earlier picture is probably taken just before or during The First World War, unfortunately it is not very good quality. If during the War it could be the 1st or 2nd Battalion or even the Reserve Battalion. In the background the Victoria Bridge and the old Hereford General Infirmary .are clearly identifiable
The modern photograph is taken in about the same location, but the growth of trees in the in between time make an exact replication challenging! The Infirmary has also closed and combined with the 'new' County Hospital and this old building is now private housing.
April 2023
Newmarket
The photos this month show the 1st Battalion marching through Newmarket before embarking for service at Suvla Bay in 1915 - and a similar modern view - courtesy of google maps!
March 2023
Army Careers Information Office
This month's feature is not directly linked to the Regiment but how many young men and women passed through the doors of the ACIO in Commercial Road and the course of their lives changed?
An interesting display in the window - I wonder what regiment the tunic belonged to? Does it have the Herefordshire (Lion) badge on the collar? Whose medals are they - Queens South Africa Medal (Boer War) , World War One War and Victory Medals and Second World War Defence Medal - we have similar items in the museum - were they borrowed from the museum??