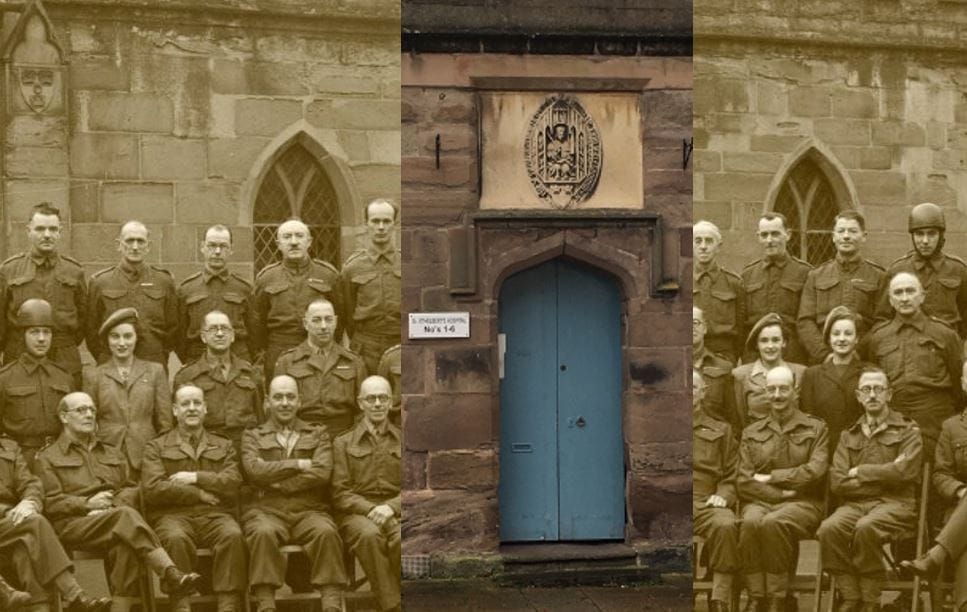 Monthly feature
The Camera Returns
January 2022
Hereford Home Guard
This month another Home Guard photograph!
Hereford Home Guard - Hereford Sector
This month's picture is of the Hereford Home Guard, Hereford Sector taken outside St Ethelbert's Hospital (Almshouse) in Castle Street Hereford.
There is no date on the photo, but it probably later in the war and there are females included.
Unfortunately there are no names, but one man is thought to be - EE Mann - back row 6 from left (as viewed); he had served with the Herefordshire Regiment during World War One including Suvla Bay where he was awarded the Distinguished Conduct Medal (DCM):
Cpl E E Mann, A Coy, 1st Herefordshire Regt TF at Suvla, night of 9/10 Aug 1915.
For great gallantry in volunteering with Pte D H Pike to procure much needed water under heavy machine gun and rifle fire, and afterwards guiding widely separated detachments of his regiment across very difficult country under fire of snipers with great ability and success.
He was also Mentioned in Despatches and awarded the Russian Order of St George.
December
Hereford Home Guard
The Home Guard were issued with a variety of weapons. This months photograph shows a team from the 3rd (Hereford City) Battalion of The Herefordshire Home Guard with a 'Spigot Mortar'. The 'today' photograph is taken across Hereford Rugby Club pitches and is clearly the spot the original photograph was taken.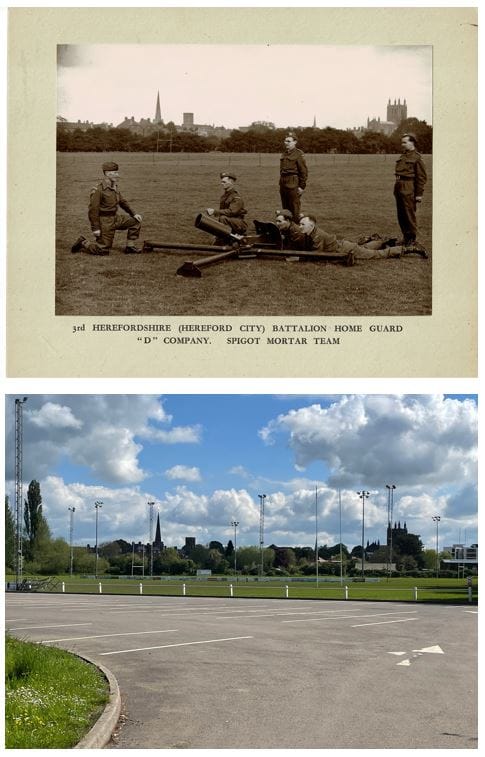 November
Ledbury Railway Station
This month's photo shows Ledbury Railway Station in August 1914, with soldiers from C Coy The Herefordshire Regiment on Mobilisation on the outbreak of the First World War. The second photo shows it 80 years later; the station buildings demolished after the Beeching cuts of the 1960s.