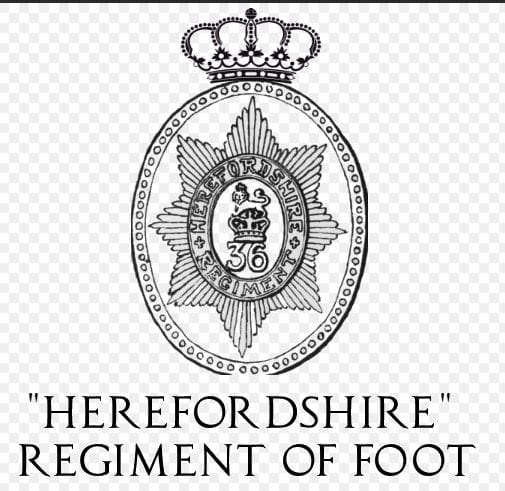 The 36th (Herefordshire) Regiment
1701 - 1880
36th Foot
The 36th (Herefordshire) Regiment of Foot was an infantry regiment of the British Army, raised in 1701. Under the Childers Reforms it amalgamated with the 29th (Worcestershire) Regiment of Foot to form the Worcestershire Regiment in 1881. Its lineage is continued today by the Mercian Regiment. The Herefordshire claims no lineage to the 36th of Foot, but a brief history is given as it included Herefordshire in its title.

The unit was raised on the outbreak of the War of the Spanish Succession: on 28 June 1701 William III issued a warrant to William Caulfeild, 2nd Viscount Charlemont to raise a regiment of foot in Ireland. It was the successor to a previous regiment raised by Charlemont in 1694 for Irish service. William died in March 1702 and his successor, Queen Anne, issued a further warrant declaring that Charlemont's Regiment of Foot was to be one of six newly formed regiments.
Under the Cardwell Army Reforms of 1881, a regiments were to be given a geographic affiliation, each regiment was to have a Depot with, at least one regular and militia battalion. Rumour has it that a Depot was proposed in Herefordshire but that the Bishop would not allow it and as a result a single depot for the 29th (Worcestershire) Regiment of Foot and the 36th Regiment of Foot was established at Norton Barracks, near Worcester.
In 1970 the Worcestershire Regiment was itself amalgamated with the Sherwood Foresters (Nottinghamshire and Derbyshire Regiment) to form the Worcestershire and Sherwood Foresters Regiment. In another amalgamation in 2007, the Worcestershire and Sherwood Foresters Regiment amalgamated with others to become The Mercian Regiment.
The following Battle Honours were awarded to the 36th:
The Regimental motto was the word 'Firm'. The motto was subsequently used by the Worcestershire Regiment from 1881 to 1970 and featured on their capbadge and the word 'Firm' forms part of the collar badge of The Mercian Regiment.
The facings worn on the red coats of the regiment were green by 1742, and the Regiment's nickname was the Saucy Greens.